So this is the time of the year when Samsung usually launch their flagship Galaxy S series smartphones. Last year during this time only Samsung announced Galaxy S20 series which includes 3 smartphones namely Galaxy S20, Galaxy S20+ and Galaxy S20 Ultra. Galaxy S20 Ultra being the flagship device and costliest among all. But just after the launch, the coronavirus pandemic hits the globe and thereby subduing all the pomp and show around the Galaxy S20 series launch. To add salt on that Samsung's decision to launch Galaxy S20 series with their own Exynos series SOC in Europe and other parts of the world including India didn't go well with the end user consumers who decided to skip the Galaxy S20 series altogether and go for cheaper Chinese version from companies like Xiaomi, Oppo etc.
But this year seems to be different. Samsung at last is learning from their mistakes and decided to drop the plan of making custom cores in their Exynos SOC chipset and decided to go with the default ones from ARM. This is a big move as this will make their Exynos SOC competitive and more powerful and efficient as compared to their last generation 990 SOC which was not only having poor performance but also consumes battery like anything. These all efforts result in this years Exynos chipsets namely Exynos 1080 and Exynos 2100. Exynos 1080 being the mid range chipset will feature in Samsung's M and A series smartphones down the line in 2021. Exynos 2100 is the chipset to look for in 2021 as it will be giving tough competition to Qualcomm's Snapdragon 888.
Keeping this thing in mind Samsung knows that this might be the turning moment for them as far as their Galaxy S Series smartphones are concerned. Not only they will be powered by much better Exynos SOC of all times in non US markets but also comes with lower price tag as compared to last generation Galaxy S20 series. There were rumours of stylus being provided with this years flagship that is Galaxy S21 Ultra but take that fact with a grain of salt as nothing is confirmed yet on that front.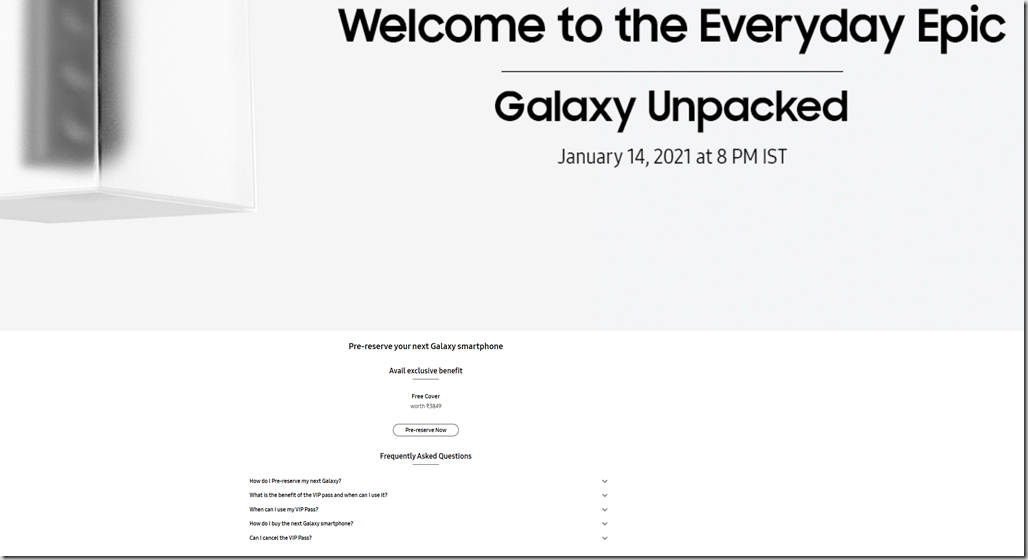 Due to all of this Samsung pre registration pages have started to pop out on their various country specific websites including India. So the pre registration offer goes something like this, that if you make a pre registration for the new Galaxy S series device by paying 2000 rupees which will ultimately be adjusted in the cost of the phone then you will be getting a free smartphone cover worth 3849 rupees. This will also put you on a fast track lane to purchase the all new Galaxy S Series smartphones without any inventory delays or some other situation like this.