Just few hours back Samsung revealed the all new Galaxy S21 series smartphones which we have been waiting for quite a bit of time now. Though we do have accurate rumours this time around as far as the design of smartphones is concerned. Also it is worth noting that all the smartphones of the S21 series will be 5G compatible (both mmWave and sub 6GHz technologies). As usual the Non US version of Galaxy S21 will feature the all new Exynos series chipset that is Exynos 2100 and the US version will come with Qualcomm's Snapdragon 888. Like the previous Galaxy S20 series the performance difference between the US and Non US version this time around is insignificant. Instead if we believe the rumours around the performance of Exynos 2100, it seems to be beating the SD 888 in variety of benchmarks. But take this information with a grain of salt as the performance of Exynos 2100 is yet to be benchmarked by independent sources.
Galaxy S21 series will feature 3 smartphones namely Galaxy S21, Galaxy S21+ and Galaxy S21 Ultra. This is almost same as the Galaxy S20 series. As usual the Galaxy S21 Ultra is the flagship smartphone of the series and comes with some world class feature set.
SPECS?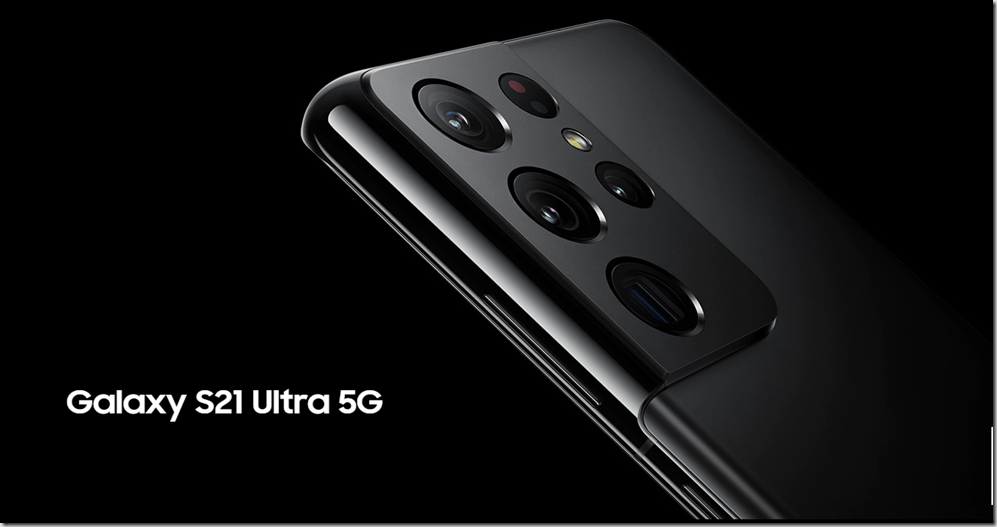 Galaxy S21 Ultra:
S21 Ultra being the flagship device comes with all the goodies a smartphone user can expect. Following are the specs of this device in bullet points:
Exynos 2100 Chipset(Non US) and Snapdragon 888 (US Version) – Both these chipsets are fabricated on a 5nm EUV process from Samsung and feature a total of 8 cores.
Up To 16 GB of RAM (Base )
108 MP Wide Angle Camera – Primary shooter which features 8K video recording @ 24FPS and 4K @ 30/60 FPS
10 MP Telephoto Lens with f/4.9, 240mm, OIS and up to 10x Optical Zoom
Another 10 MP Telephoto Lens with f/2.4, 70mm, OIS and up to 3x Optical Zoom
Last one is a 12 MP Ultra Wide lens with specs 13mm, f/2.2
40 MP Front Camera with specs as f/2.2, 26mm, PDAF
All cameras in S21 ultra are capable of recording 4K video @ 30/60 FPS
108 MP sensor also supports Nona Binning technology which basically combines 9 pixels into 1 in scenarios where there is not enough light.
S Pen Support. This is something totally new which even led to the rumours that Samsung is discontinuing the Note line up in 2021
Up To 25 Watt charging support (Well technically it is a downgrade as previous generation S20 Ultra supports 45 Watt charging)
6.7 inch 1440 Pixels Dynamic AMOLED display with 120 Hertz refresh rate and 1500 nits of brightness and comes with HDR10+ support.
Galaxy S21+
I don't know why Samsung release Galaxy S + models at all. Seriously who are they actually targeting with these. There are not lowly priced so as to attract budget conscious crowd but at the same time lacks quite a bit of features as compared to its bigger sibling that is the Ultra. But still decide for yourself whether buying S21+ is at all worth your time, effort and money. Galaxy S21 downgrades are listed below:
6.7 Inch 1080 Pixels + resolution
12 MP Primary Sensor
10 MP Front Camera
Under the hood SOC is same as S21 Ultra